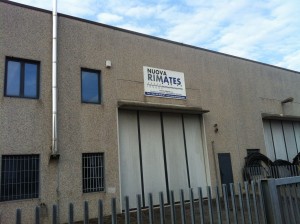 Carlo Guarnerio, after decades of experience as a textile technician in one of the most important Italian textile firms, founded in 1991 NUOVA RIMATES, a family firm specialized  in developing and manufacturing technical solutions with the goal of improving the productivity and quality in the textile industry.
In 1994, registered the first patent and started the production and the commercialization of an innovative system for lubricating the yarns with oil instead of paraffin on the twisting and winding machines called LUBRIFIL which gets a significant success in both domestic and foreign market.
In the following years there is an expansion of the products with the introduction of specific lubrication devices, for the power creels plot frame called LUBRY SMALL and for the knitting machines called LUBRY KNIT.
At the same time NUOVA RIMATES presents on the textile market two innovative devices for air humidification with dry fog technology. These humidification devices both mobile and fixed immediately get an interesting success and are currently on the market under the name HUMY ROOM DOUBLE PLUS and HUMY PLANT.
In recent years, NUOVA RIMATES presents a new mobile humidification device called VAPORTEX, ideal to be inserted in the humidity recovery rooms of yarns.
Thanks to its technical service, supported by a highly skilled and over twenty years old experience, NUOVA RIMATES guarantees a response to the increasingly sophisticated needs of the market with customized technical solutions which put it at the highest level in the world with a production 100% MADE IN ITALY, synonymous of quality, innovation and safety.
The goal of NUOVA RIMATES is to support its customers and partners, to offer a technological advantage and strategic analysis of a product at the top in terms of production performance and quality.